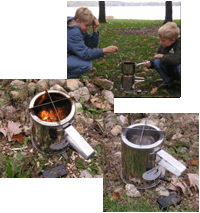 We sell the WoodGas Camp Stove (LE & XL models)!

LE $52.00, XL $72.00 (Call for shipping rates)

This stove is designed to be the smallest, lightest gasifying stove available. The LE model weighs just 23oz, and measuring just 6.25" in height, it provides the best solution where light weight and compact size are important. It is still the stove to carry when you need a clean fire from locally grown wood or pellets. The XL model (9" tall, 35oz) provides 20% more heat and 100% longer burn time than the WoodGas CampStove LE, designed to provide a more complete cooking solution where small size and weight are less important.

The WoodGas Camp Stove from Spenton LLC is a revolution in the outdoor cooking industry. It encompasses many traditional camp stove ideas and utilizes today's cutting edge engineering and technology to produce a clean, efficient heat without specialized fuels. The WoodGas Camp Stove isn't like any other portable camp stove on the market. It uses a small fan to draw in fresh air into the two stage combustion chamber, allowing for a cleaner, hotter and more efficient stove. Two AA batteries power the fan on one of two speed settings for easy temperature control.

Whether your are backpacking, hiking, camping, making s'mores or tailgating at your favorite game, the WoodGas Camp Stove from Spenton LLC is the all around convenient solution to your portable outdoor cooking needs. The WoodGas stove makes it possible to eliminate the carrying of fuel, or you can burn wood pellets. You can cook anywhere scrap wood or twigs are available. No need for bulky propane canisters or messy charcoal bricks. The Spenton stove will burn just about any combustible material, including wood pellets, grasses, sticks and twigs to branches and pine cones.

Click here for more product information on the WoodGas Camp Stove.